The ultimate guide to choosing the best home theater amplifier in 2023: Yamaha, Denon, Marrantz, Sony ?
Photo by Sigmund on Unsplash

Looking to take your home theater experience to the next level ? While a good sound bar can do the job just fine, a home theater amplifier is the key to unlocking your full potential. In this article, we'll look at what a home theater amplifier is, what you should consider when choosing one, and which brands are best for different needs.
Home Cinema Amps
Home theater amplifiers have been around for decades and are becoming increasingly popular. A home theater amplifier is an audio device that allows you to create a real home theater. Coupled with speakers and other equipment, it allows you to project yourself even better in the movies.
So it's a great way to enhance your audio experience, allowing you to enjoy movies, music and games with superior sound quality. With home theater amplifiers, you can enjoy an immersive experience that you can&#8217t get with an ordinary stereo system or sound bar.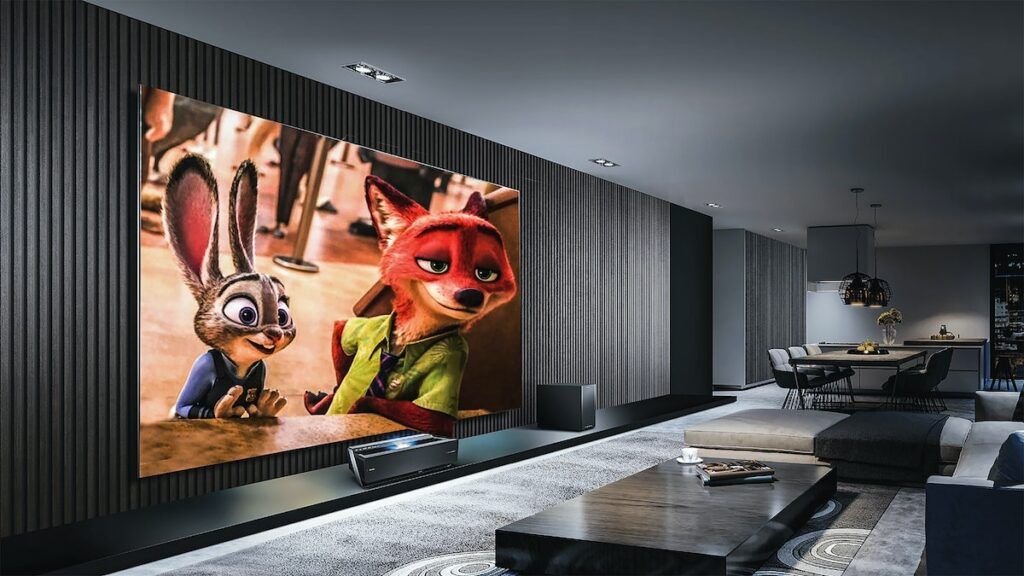 Photo by Chauhan Moniz on Unsplash
What is a home theater amplifier ? What is the difference with a stereo amplifier ?
A home cinema amplifier is an audio device that amplifies the sound produced by your sources to your speakers. It is usually connected to the audio source (such as a Blu-ray player, TV box or game console), then to the speaker system. Nowadays, some of them can even be connected to your video player such as a projector or an OLED TV.
A home theater amplifier is capable of producing much more sound than an ordinary stereo amplifier. In addition to the power, it has more channels and can broadcast on more than 2 speakers (the capacity of a stereo amplifier). By using more speakers (from 6 to 20 channels), the audio experience is more immersive.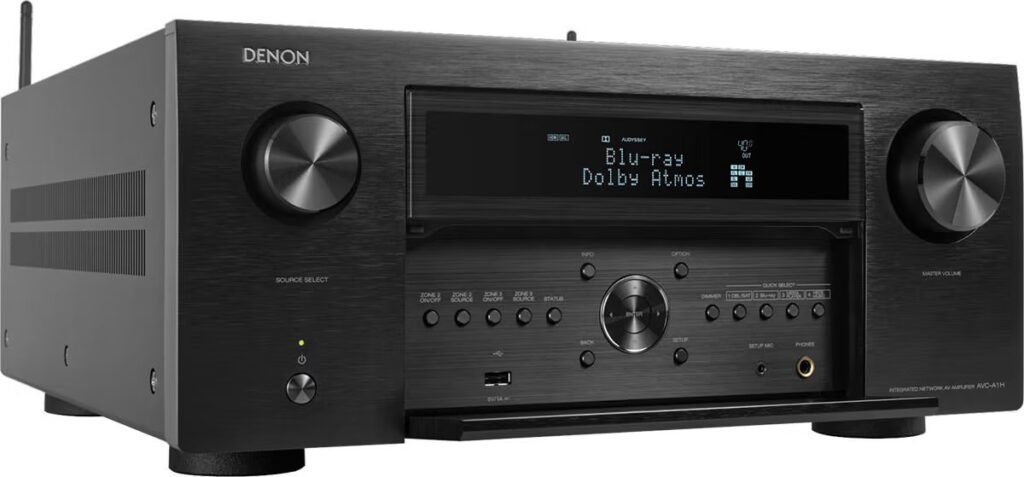 Denon AVC-A1H
As you can see, the main difference between a home theater amplifier and a stereo amplifier is that it is designed to run a 5 channel system.1 (or more), while a stereo amplifier is designed to run a 2.1 maximum. A 5″ system.1 system consists of five main speakers (left, right, center, rear left and rear right) and a subwoofer, while a 2.1 consists of two main speakers and a subwoofer. Afterwards, you can go up with an impressive number of speakers. Thus, the Dolby Atmos system (allowing to add speakers in height / ceiling) can push the experience to the maximum.
So an amp like the Denon AVC-A1H can drive up to 15 channels in 9.4.6. That is 9 speakers, 4 subwoofers and 6 atmos speakers !
Choosing the best home theater amplifier for your home
There are several factors to consider when choosing a home theater amplifier. The most important factor is the number of channels. The more channels a home theater amplifier has, the more speakers it can handle.
Do you want the 5.1 ? 7 speakers.1 ? Dolby Atmos and therefore rather a 5.1.2 (counting therefore 2 speakers in height) ? According to this, you must identify which amplifiers meet your needs.
Secondly, you need to consider the power of the amplifier. The more powerful the amplifier, the more it will be able to drive your speakers. The same home cinema amplifier is not sized for a living room of 15 square meters as for a dedicated room of 50 square meters ! so plan for the power needed for your listening space.
Do not pass also through the connections of the amplifier. Most amplifiers have a variety of connections, such as HDMI, optical and coaxial. Some may be equipped with HDMI e-ARC, XLR connections.
All without counting on the possible wireless connections such as Bluetooth, Chromecast or Apple Airplay. Some brands of home cinema amplifiers such as Yamaha or Denon also offer compatibility with the multiroom system, to be studied if you already have speakers or equipment of the brand !
Finally, you must consider the size and weight of the amplifier. Do you have a solid furniture ? Will you move the amplifier ? These are questions to be answered.
A home cinema amplifier or preamplifier
There are two main types of home theater amplifiers: amplification and home theater preamplifier. Home theater amplifiers are the most common. They concentrate all the flow in a single module: preamplification and amplification.
They are designed to provide power to a speaker system and are generally used in simpler systems.
Home theater preamplifiers are designed to ensure sound processing. They will serve as a centralization of flows as well as the division of sound on the different audio channels. However, the amplification part will be deported to another amplifier called power.
They are often used in very high-end systems where you want to identify each part of the sound cut and ensure the best possible treatment at each level. A typical example is this type of (SUPERB) pair of equipment from the American brand McIntosh. There is a MX100 home theater preamplifier coupled to a 7 channel MI347 amplifier. In the top of the top !
The best home theater amplifiers ? Denon, Marantz, Sony, Yamaha…
When it comes to home theater amplifiers, there are many quality brands to choose from. We naturally think of Yamaha, Marantz, Denon or Sony for their home cinema amplifiers. After that, other brands like Onkyo or NAD also make very nice products.
The Denon amplifiers
Denon is a popular choice for home theater amplifiers, as it offers a wide range of models. Their home theater amplifiers are regularly among the best in tests, globally in all sizes and powers. The AVC-Xx800H range of amplifiers is a good example of this, as it brings awards after awards.
The Denon AVR-X2800H will be difficult to beat under the 1000€ bar and its big brother, the Denon AVR-X3800H on the niche – filled – around 1800€.
The best Yamaha home theater amplifiers
Yamaha is another great choice for home theater amplifiers. They offer compatibility with the home multiroom system – Musicast, and are often very effective on the cinema as musical renderings. Under 1000€, the Yamaha RX-V6A offers already excellent performances.
Above that, we move into the Aventage line of Yamaha home theater amplifiers, headed by the already iconic Yamaha Aventage RX-A6A models and at the top, the Yamaha Aventage RX-A8A.
Marantz amplifiers
Marantz is another popular choice for home theater amplifiers. Little sister of Denon, the brand also offers a beautiful range of home theater amplifiers. Some say Marantz is more musical than a more cinema-oriented Denon.
Looking for a compact home theater amplifier ? Don't look any further, the Marantz Cinema 70S is made for you. If you're looking for something more conventional (and more powerful), turn your ears to the Marantz Cinema 50;
Finally, it's hard not to mention Sony, Rotel, NAD or Onkyo which will offer you very good quality home cinema amplifiers.
Home theater amplifier or sound bar ?
This has been the big question in recent years when it comes to home theater. Does a quality sound bar compete with a classic system?. Of course, there are many things to consider. If you're looking for a simple, less expensive solution, a sound bar is the best choice. Sound bars are easy to install and don&#8217t require much space.
They can also provide a successful sound quality, as we have seen.
But if you're looking for the best sound quality, an immersive experience and a nice reserve of power, a home theater amplifier is the way to go. They provide more power, potentially more channels. And the speakers can also be customized, giving you total control over your sound.
How to connect your home cinema amplifier
Connecting your home theater amplifier is a relatively simple process. First of all, you need to connect the amplifier to the audio and video sources. We think of a Blu-Ray player, a game console like the PS5 or a TV box.
Audio peripherals such as a CD player or even a vinyl turntable can also be connected to the majority of the amplifier models. Then, it only remains to connect the home cinema amplifier to your speakers with a speaker cable (equipped or not with banana plugs), and it's done !
Conclusion
A home cinema amplifier is an essential part of a home cinema system. It lets you get the most out of your speakers and other equipment. It can give you a totally immersive audio experience, if you put in the effort.
When choosing a home theater amplifier, it is important to consider the number of channels, power level, type of connections, size and weight. The most popular brands for home theater amplifiers are Denon, Marantz and Yamaha. We can also take into account Sony, NAD, Onkyo.
A home theater amplifier offers many advantages, but it can also be expensive and require a lot of power. Ultimately, the best home theater amplifier for you will depend on your needs, your sources, your listening room and your budget.