Casting les Z'amours in Annecy on october 28th 2020, why not you ?
Casting the Z'amours in Annecy
You have probably watched at least once the famous show "Les Z'amours" on France 2 ? You have the opportunity to be yourself candidate ! To try to be selected, you must present yourself with your spouse on October 28 in Annecy to participate in the casting.
Try to win a trip !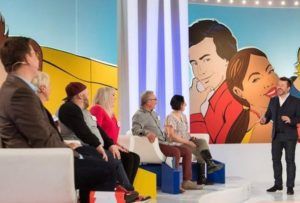 You probably know this game show broadcasted on France 2 which exists since many years. The presenter Bruno Guillon asks many questions to each member of a couple. The objective to win is that as many answers as possible are the same.
The game lasts about thirty minutes with three couples in competition.
The game includes several rounds, each time you have to give the same answer as your other half. Each correct answer gives you points that are counted. To do this you must know the preferences of the other, we advise you to review a little before if you are selected to participate in the program.
For example what is the favorite color, the actor, the season, etc.
To give you an idea of the questions asked, here is an example:
What does your man have in common with a handbag? ?
You give him all your secrets,
It is the same for years,
You are always afraid to get it nicked !
The couple who arrives in first place goes to the final. During a limited time, you are asked about your spouse's preferences. You will answer these questions in a row.
You are allowed four mistakes to have more chance of win the trip.
How to register for the casting in Annecy of Z'amours ?
You have to be over 18 years old and in couple.
The address of the casting will be provided to candidates after their registration on www.leszamours.tv. You can also call the France 2 team at 01 42 56 49 45.
The duration of the casting is about one hour. October 28 in Annecy several time slots The following times are proposed: 12:00, 14:00, 15:00, 16:00, 17:00, 18:00 or 19:00. If you do not want to move, you can choose the webcam option for the casting.